utai
27 Apr 2011 07:34
in discussion
Glitches and Support / Guides
»
Image Guidelines and Rules
Please don't forget to read the Wiki Rules on Images as well.
Global
---
Turn off the UI by pressing CTRL+PRTSC simultaneously.
Make sure screenshot is of high quality.
.PNG or high quality .JPEG only.
Do not take screenshots in busy areas. Look for a simple backgrounds, please.
Exclude NPCs, Players, Mounts, from screenshots if possible.
Crop the images properly. There are examples below of ideal and not-so-ideal cropping.
Specific image dimensions coming soon.
Examples of Ideal Cropping
---
Pretend we're taking a screenshot of some Rare equipment to show it displays as a blue and white uniform on your character.
Let's say we want a nice shot of the Armor part of the set.
(do not take the size of the images in mind, only the content. i made them small to save space.)
This is what not to do:

While this may be (slightly) suitable for a Helmet shot, this is unacceptable for a screenshot of armor. You have to have the ENTIRE piece in the shot.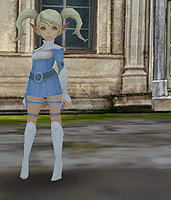 This does have the entire set in it, but it also has that gap of unnecessary space to the right of it. In order for it to be appropriate, crop that extra space out.
Now this is what to do: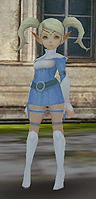 Try to have them cropped as close as you can to the character. You may leave a bit of space for appearance. (But only a little!)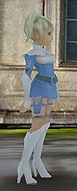 Also, try to keep the dimensions around the same size if you take shots of multiple angles.
---
Equipment
---
Unequip ALL CASH SHOP ITEMS when you are screenshotting an item for wiki. If you are screeshotting a Cash Shop item, unequip all other Cash Shop items.
Use your mousewheel to scroll in a bit if you need to in order to get detail of the item. Don't zoom too much or the user can't tell the how big the item is compared to the character.
When taking pictures of Equipment, please incluse these 4 angles:

Front
Side
Back
Angle

Angle Being a 3/4 Angle of the character.
---
Towns/Areas/Dungeons
---
Although it's a bit difficult in Dragon Nest, it is preferred to have your character out of the screen when taking screenshots of locations. However, it is not required.
*More info will be added later to this section
---
Uploading
---
Please remember to use the additional storage sites listed in your User Tools, since our storage is sadly limited at the moment.
---
End!
---
Post any question/suggestions here in this thread if you have any!
This guide is still incomplete, so there will be more added on at a later time.
Image Guidelines and Rules
by
utai
,
27 Apr 2011 07:34